In this post, you will learn how to write a good blog description that gets more clicks and brings traffic to your website.
A good description of your blog helps your readers to get an idea about your blog, what content they will find on your blog posts and how they will benefit from it. In fact, 43% of people click on a search result based on its description.
Here, I am going to show you how to write and optimize a description for a blog step by step with examples.
What Is A Blog A Description?
A blog description is a text paragraph that you see at the bottom of a search result in the SERP. Generally, it is also called "meta description".
Here you can see how a blog description looks in the SERP:

Types Of Blog Descriptions
There are two types of blog descriptions based on the website structure:
Blog Description: This is the description that you write for your website or homepage.


Post Description: This is the description that you write for every indivisual blog post. This is also called blog post meta description.
Importance Of Blog Description
The main function of a blog description is to give the searcher an idea about the content of the website. When someone searches on a search engine, the searcher wants his problem to be solved. For this, the searcher would like to visit the most relevant website only.
Now, how does one know that a website is relevant?
This thing will be known by reading the description of a search result. If the description is well written then there is a higher chance that the searcher will click on that search result.
In other words, the better your blog description, the more chances of getting more clicks and more visitors.
Another advantage of this is that when more users click on the link of your page, then Google thinks that the website is solving the problem of the people and it is very useful so Google shows it at the top of the SERP.
How To Write Blog Description For Your Blog?
Generally, there are two types of websites:
Custom built website
WordPress (CMS) based websites
You can add it to both types of sites in a few simple steps. Here's how:
Adding To A Custome Built Website
You can add it just by adding a <meta> tag in the head section of the website. Here is the sample code:
<meta name="description" content="Type your desired blog description text here.">

Adding To A WordPress Website
In a WordPress website, you can add it using any SEO plugin. Yoast and Rankmath are the most used SEO plugins. Here is how you can add a blog description using these plugins:
Using Yoast Plugin
In the Yoast plugin, this option is available for both pages and posts. When editing a page or post, just scroll down and you will find this section.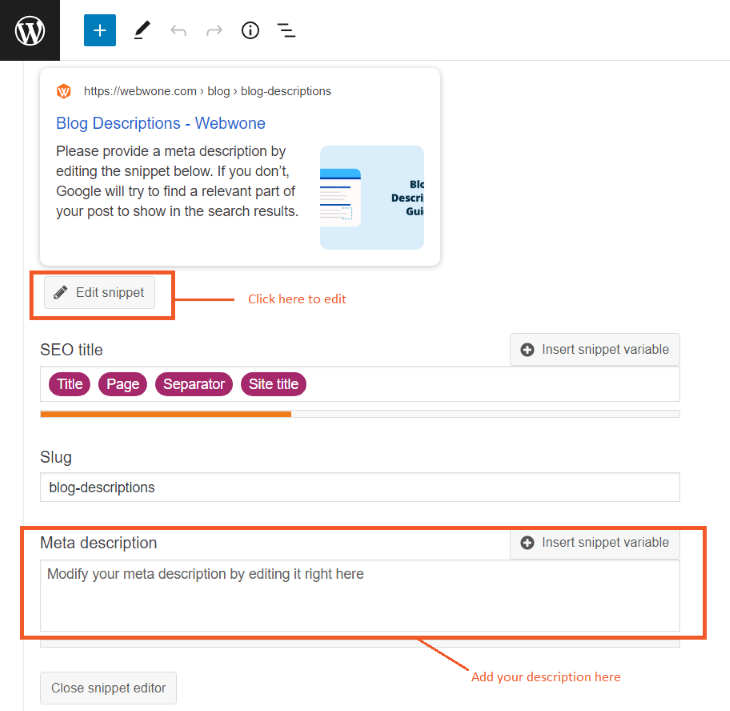 Here, you can add a description for your page or post.
Using Rankmath Plugin
In Rankmath, there are two ways to add a description. Here is the first way by which you can add a description of the home page:
Navigate to Rankmath > Titles & Meta > Homepage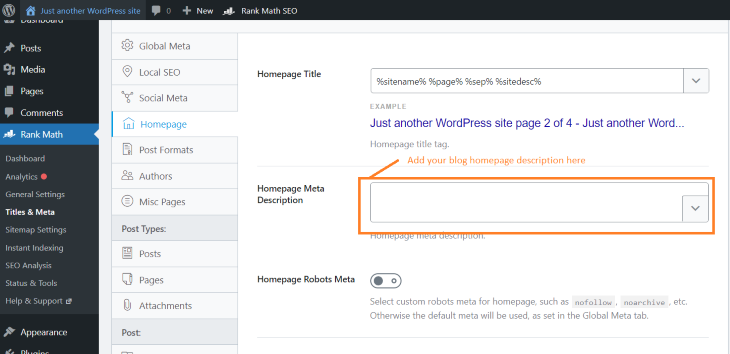 Here you can add the blog description for your website/homepage.
Now, the second way is to add the Post Description. You can add a description for both post and page using the same method.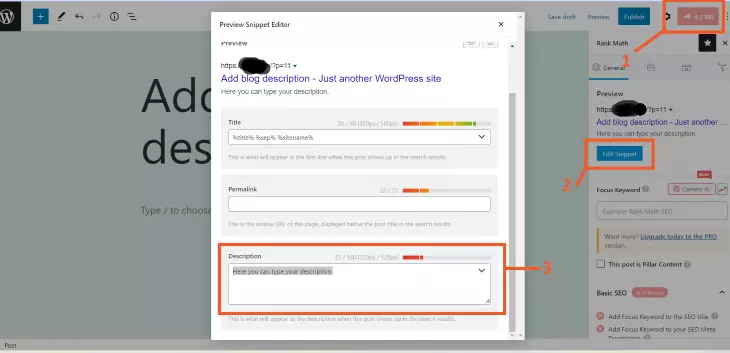 here are 3 steps to add the Post Description to an individual post or page. This description will be shown below the link to your blog page in SERP.
Important: The limit of characters in a description is around 150 characters or 915 pixels in length.
Tips To Write Blog Description + Examples
Tip #1: Include A Proper CTA

What's special about it: It has a clear CTA (Book Now and get a discount) that inspires users to take action. It also gives users an idea that they can book flights on this page.
Tip #2: Specify Your Target Audience

What's special about it: It has a clear message that they want to inspire athletes. Here Nike has specified its target audience clearly. Now if an athlete sees a result like this, there is a high chance that he/she will click on it.
Tip #3: Include Your Target Keyword

What's special about it: Here, Ahrefs has included its target keyword (SEO statistics) in the description. If you search for "SEO statistics", you will find this result in the top position.
Tip #4: Include The Benefits

What's special about it: Here, the benefits of the products are specified. It tells the users that they will get what they want from the product.
Tip #5: Write In Active Voice

What's special about it: The description is well written in the active voice and speaks directly to the searchers. Writing in the active voice makes your description more personal and interesting.
More Blog Description examples
Here are some more examples from different industries and niches. You can take inspiration from these examples.
➢ Personal Blog Description Example

Here David Lebovitz has written that he is a "professional chef and author". While writing the blog description, keep in mind that the message you want to convey to the reader should be very clear.


This description establishes authority by first mentioning dads and moms. Because this blog is about raising the kids. If this blog was about making your married life happy, "couples" would have been mentioned here.
➢ Food Blog Description Examples

There is a lot of emphasis on healthy recipes in the above description. In such a situation, people who are health conscious but also want to eat well will be more interested in this website.

In this description, Jeanine Donofrio mentions that she is an author of a book that establishes her authority. The second thing is she has mentioned that you can also find "vegetarian recipes, gluten-free recipes, and vegan recipes" which is a target niche.
➢ Travel Blog Description Example
Here, Shivya Nath mentions that it is a solo, offbeat and responsible travel blog that she runs. She also mentioned that she has been voted among the best travel bloggers in India which establish her authority.
Here it is clearly mentioned that this blog is about Indian and International tourism which focuses on some interesting topics. So, if searchers are also interested in these topics, then they can read this blog.
➢ Fashion Blog Description Example

Here, they have clearly mentioned that they are specialized in reviewing various beauty and makeup products as well as fashion products.

In this description, the main message is that they teach women how to dress well. This type of straight massage helps people remember the brand for a specific reason.
➢ Tech Blog Description Examples

Now, this is an interesting description. This description is very short, easy to read, attention-grabbing, and curious.

Her, it is clearly mentioned that it is a popular "Indian" business and technology blog. Now it means that this blog mainly features Indian technology & business news.
➢ News Blog Description Examples

Here the BBC noted that it "informs, educates and entertains" people of all ages around the world.

Here Zee News has clearly written that it brings the "latest news from India and the world" and after they have mentioned some of the most famous industries.
In all these descriptions, you will find that people have focused on a few things such as establishing their authority, specifying their target audience, specifying their main content topic, and using their target keywords wisely.
How To optimize Blog Description For SEO
The blog description of your blog is like the trailer for a movie. You have to make it such that after reading it, the user clicks on your link and the search engine can also understand it well. Here, I've outlined some actionable ways to optimize your description for both users and search engines:
For homepage –
Include your blog's target keyword
Write your blog's mission and why people should read it
Specify your target audience
Include the credentials of blog owner to establish authority
For individual blog posts –
Make it highly relevant to your page
Talk about user benefits
Write it in active voice (Use "I" and "You")
Write unique description for each page
Use statistics to increase the credibility
Make it curious and interesting
Use power words to make emotional
Include a clear CTA
Make it specific for a type of audience
Things to avoid –
Don't repeat your keywords
Don't copy and paste other's description
Don't use same format for all descriptions
Don't fill up with useless words
Tools To Optimize Meta Description
1. Meta description pixel checker
This tool is provided by totheweb.com. Using this tool you can put the webpage's URL or manually type the title and description and check the length in pixel.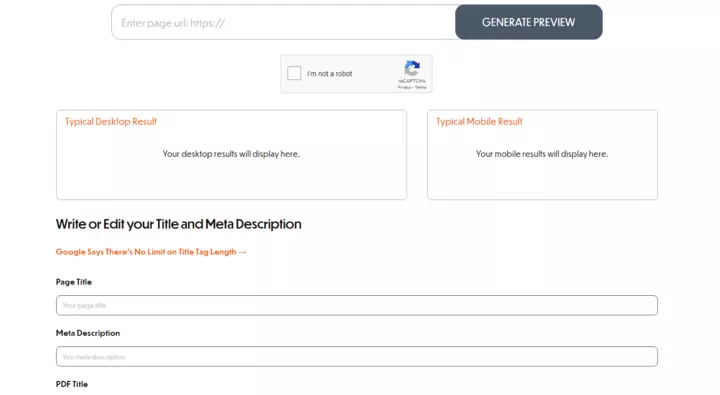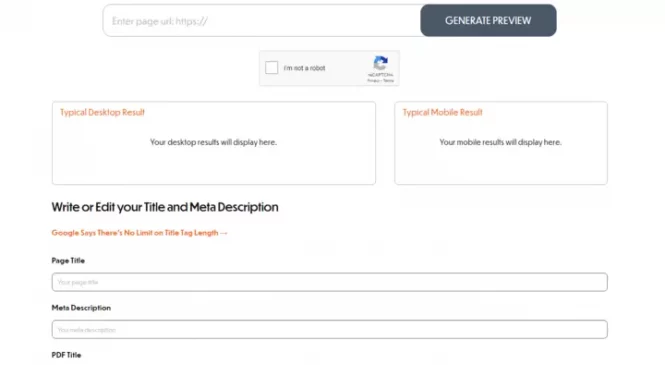 But why do you need this tool?
Some letters are wider and some less wide. In this case, if you used most of the widest characters (such as Q) and measured your description in characters, it may not be fully visible in the SERP. There is limited space in pixels for description in the SERP. So you need to measure it in pixels.
2. Blog meta description generator
By using this tool from rytr.me, you can generate SEO meta descriptions. With this tool, you can also generate other useful things such as blog ideas, blog outlines, product descriptions, emails, job descriptions, business pitches, etc.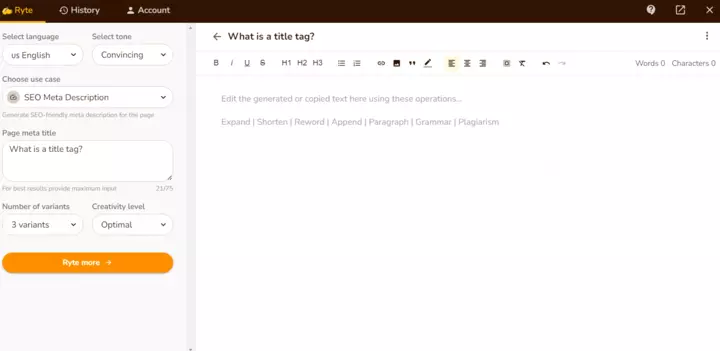 3. Meta tag HTML code generator
This tool is provided by seoptimer.com. Using this tool, you can generate HTML code for your custom-coded website. You simply put the details of your meta description and it generates the HTML code. You have to just copy and paste the code in your website head section.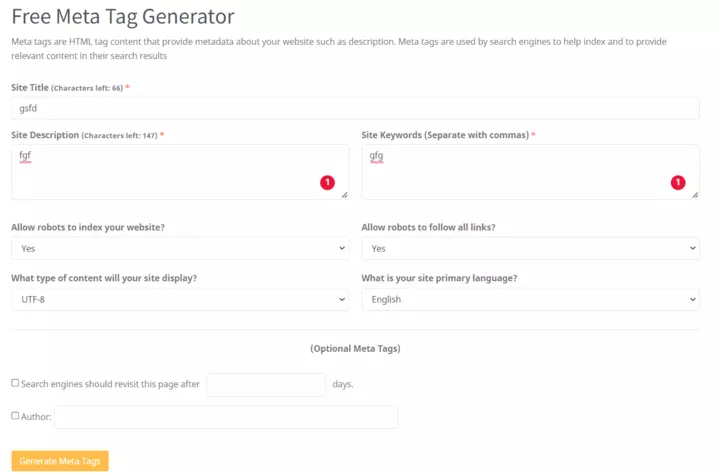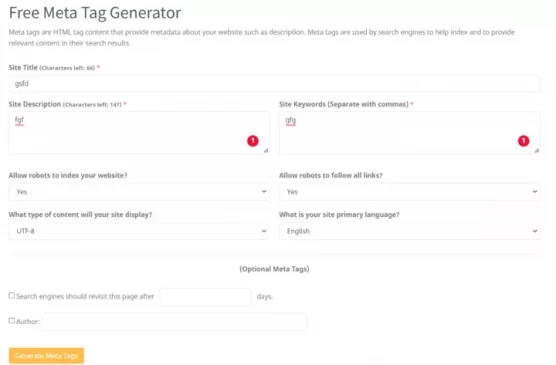 Blog Description Writing Templates
Here are some templates that you can use to write your blog description.
[Adress the problem] + [Tell the reason] + [Offer your solution]
Example: Dropped your sir traffic suddenly? It's because of the latest Google update. Here, I have shared the complete checklist to recover from this update. Read now.
[Easy to implement solution] + [Desired result] + [Proof – Optional]
Example: Here are 11 ways to lose weight without doing a conventional diet or exercise plan. All of these have been confirmed in scientific studies.
[What your content is about] + [Will help you] [Outcome] + [Without] [Barrier in getting result]
Example: In this post, I have explained the skyscraper technique that will help you to build quality backlinks without any extra effort and wasting time.
[Your product] + [Will help you] [How it will help customers] + [With] [Product features]
Example: HubSpot's free CRM software powers your customer support, sales, and marketing with easy-to-use features like live chat, meeting scheduling, and email tracking.
Wrapping Up
Writing blog posts is one of the most challenging tasks but writing blog description is one of the most crucial tasks. You need to know your audience, the goals of your blog, and what you hope to achieve. Your description should be written in a very attractive way to attract your reader.
If you want to write a blog description that draws the attention of your readers and makes them click and visit your blog, then you need to follow the actionable tips that I have shared in this blog post. If you follow these tips, then you can write a blog description that makes your blog stands out. I have also provided the templates to write your blog description fast.