Note :

We have included affiliate links on this page which means If you purchase through referral links on our site, we earn a commission. This adds no additional cost to you.
Bluehost is one of the best web hosting service in the world which has been trusted by over 2 million customers since 2003. It is a web hosting service that offers very effective and affordable plans for all kinds of websites, from small business to e-commerce to personal blogs.
But, why do so many people trust this company so much? Is this the best web hosting for WordPress? There are many such things about Bluehost that you would like to know, which I have talked about in this post.
If you are wondering whether you should get a web hosting service for your site, read this review to help you decide.
Bluehost is an international web hosting company which was founded in 2003 by Matt Heaton. Bluehost comes under the "Endurance International Group" parent company.
With Bluehost, it's not just about a website, it's about the whole package that will help you grow your website and business. It offers incredible features and benefits to help you succeed in an online environment.
Here is the quick overview of it's features –
Bluehost highlights
Free Doman For 1 year
Free SSL certificate
Free CDN
Free custom email accounts
24x7 Support
Unmetered bandwidth
99.9 % Uptime
1 Click WordPress Install
Bluehost is also officially recommended by WordPress so there is no trust issue.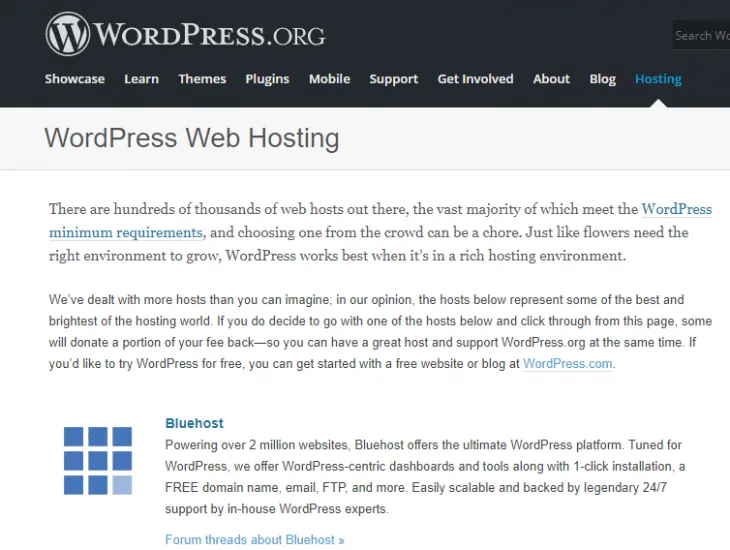 Detailed Review of Bluehost
The best way to know anything about a product is to use it yourself. Bluehost is a hosting service that I personally use for my own and client's websites.
I tested and analyzed websites running on Bluehost "shared hosting" with several tools. I got some amazing results which I have shared here with all the benefits and downsides of Bluehost.
When you create a website, performance is the no 1 thing that you want to be the best. So, let's start with Bluehosts's performance.
Did you know that a 1 second reduction in your page speed can result in a 7% reduction in conversion rate? This means that website speed is the top factor for a website to be successful.
The speed of a website depends on various factors and hosting is the top factor among them. Because the better your hosting server, the faster it will respond and the faster a user will be able to access your website.
I have measured the speed of a WordPress website that is running on Bluehost, using the top 3 tools. Here is what I got- 
GTmetrix is a well known website speed testing tool which has tested more than 350 million pages till date. It has 66 testing servers in 22 countries.
I tested the website on this tool 2 times and here is the result I got.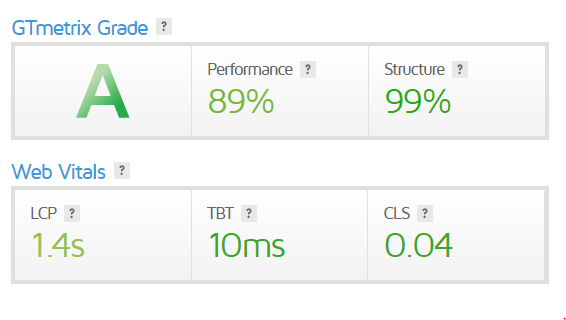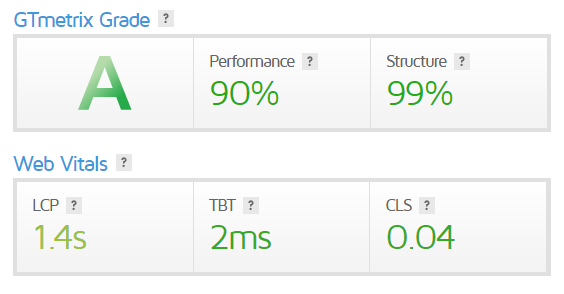 I got amazing results when I tested on GTmetrix. The average LCP time is less than 1.5 second which is amazing and TBT score is also awesome.
Pingdom Website Speed Test
The second test I did was on the Pingdom tool. This is also a wonderful tool. I tested two different pages on this tool and got amazing results.
You can see the results below.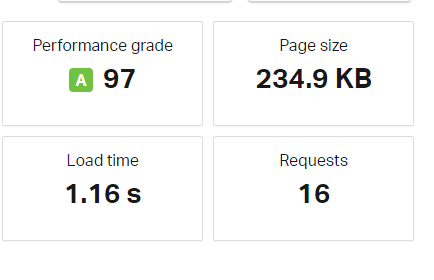 Isn't it an amazing result? Both the pages are loading within 1 second.
Google PageSpeed Insights
I tested 3 times on Google's Pagespeed Insight' tool. Here are the results for both desktop and mobile versions.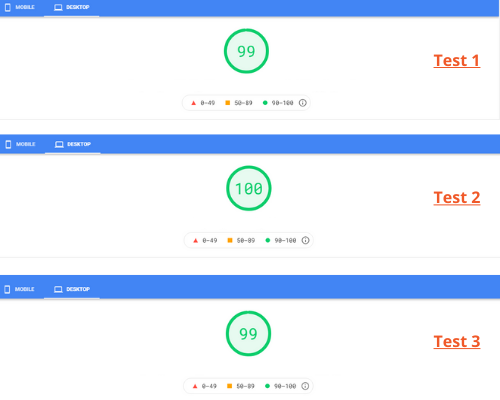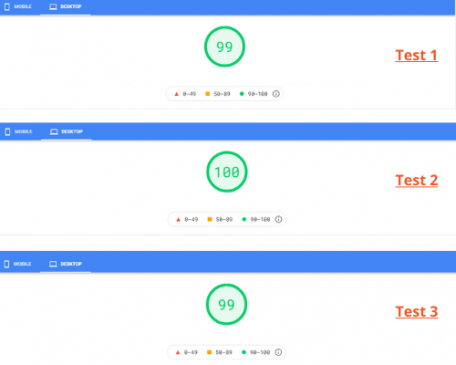 On desktop, the website has achieved the 100 page speed score. It means people will be able to open your website in less than 1 second.
You can see the test result of mobile version below –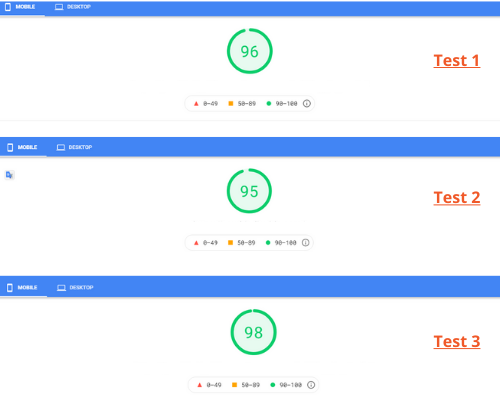 As you can see the speed score between 95 to 98 on mobile version which is very good.
Every hosting server goes down at some point in the year. This time period is very short. The rest of the time the server is easily accessible to users. The amount of time for which your website is easily accessible to the users, is called the uptime of hosting.
The higher the uptime of the hosting server, the better the hosting is considered. Most of the hosting companies claim 99.99% uptime but when we checked the uptime of Bluehost we got these results.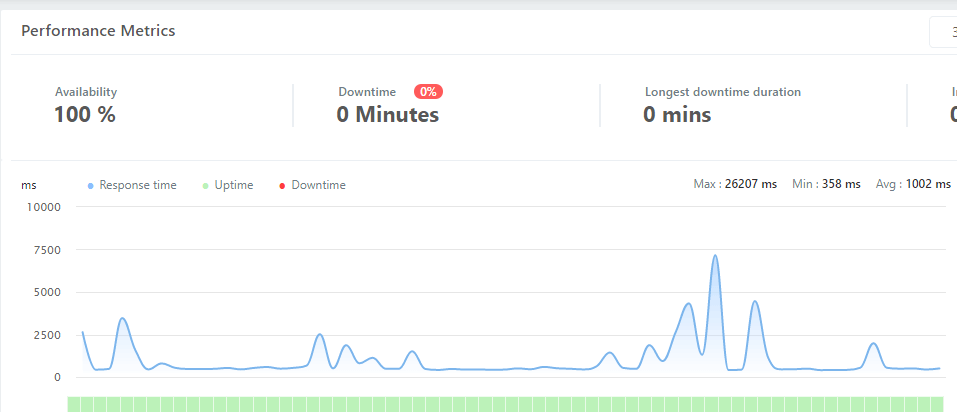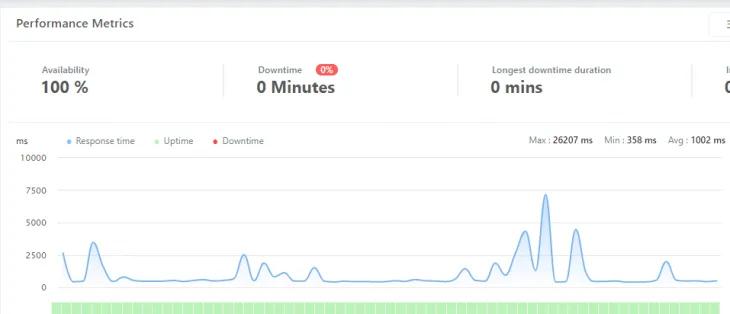 I got 100% uptime and this is really awesome. I also checked it with another tool and I got the same amazing result.


This is the time at which the server responds to the user's request. In other words, how quickly your website starts loading.

Here you can see the response time from various locations. No matter from where the user is accessing the website, your website will start loading within milliseconds.
Core Web Vitals is an algorithmic update by Google that was launched in mid-June, 2021. It measures the performance of the webpage which is a major ranking factor.
If your website fails in the test of web vitals, it is very difficult to rank at the top in Google.
I tested the website that is hosted on Bluehost and got this result –

Here you can see what Google recommends for web vitals and my test results. This website has easily passed the web vitals test. Means, with Bluehost hosting you don't have to worry about algorithm updates.
There is no doubt that the security of any website is one of the most important factors. We are living in a time of technology in which website hacking and data theft are common. In such a situation, it is very important for us to keep our website secure from such things.
The security of your website is one of Bluehost's top priorities. It offers several security features that help you keep your website secure.
You can set up automatic updates from your account dashboard and also control other things.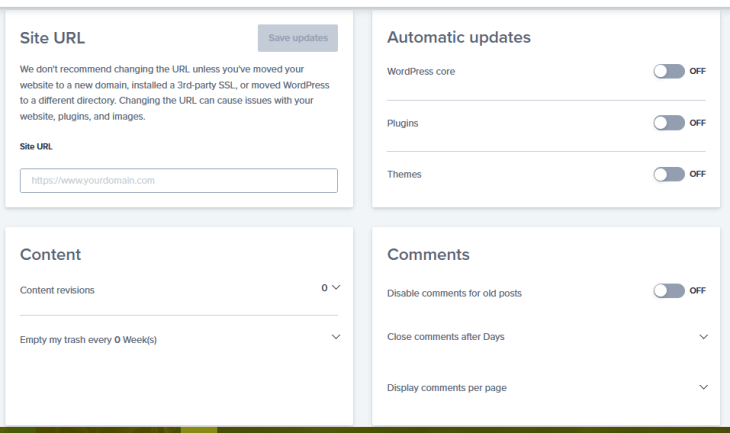 Bluehost also automatically protects the resources of your website, in which you do not need to do anything extra. You can also buy additional security add-ons and tools such as – premium SSL certificates, spamExperts mail filtering, sitelock, codeguard, etc.
A good support system is one that can solve every small to the big problem of the customers. It is also very important for retaining customers of any company.
Bluehost mainly offers two types of support. Both supports are available 24 hours a day, every day of the week.
You can call Bluehost support anytime from anywhere in the world. Here are the support numbers you can contact –
US – +1888-401-4678
India – +912271221644
Their Support Assistants Will Never Let You Down
Chat support is available for both new and existing customers. You can find the "chat" button on the right side of top bar or you can also visit their contact page.
If you are a new customer, you will be assisted by sales team. Here you can ask your doubts and problems related to Website, domains, marketing, setting up a new account, renewal of hosting or other add-ons, etc.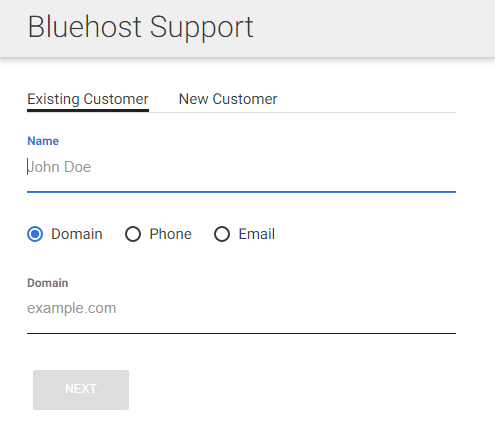 If you are an existing customer, you can contact by providing your domain name, mobile number or your email address. In some cases, they may even ask for a security PIN that you can find in your Bluehost account dashboard or you will receive by email.
Their support team is capable of resolving all your issues. Along with their amazing support system, they also have a knowledge base where you can find resources related to hosting, website, security and all other stuff.
Bluehost pricing is so affordable that any beginner can buy a hosting plan as per the requirement. They offer amazing services and features in budget price which starts from $2.75.
If you are a beginner, then shared hosting is the best for you. Here is the pricing details of Bluehost shared hosting –
below, you can see the full features of the Bluehost shared hosting –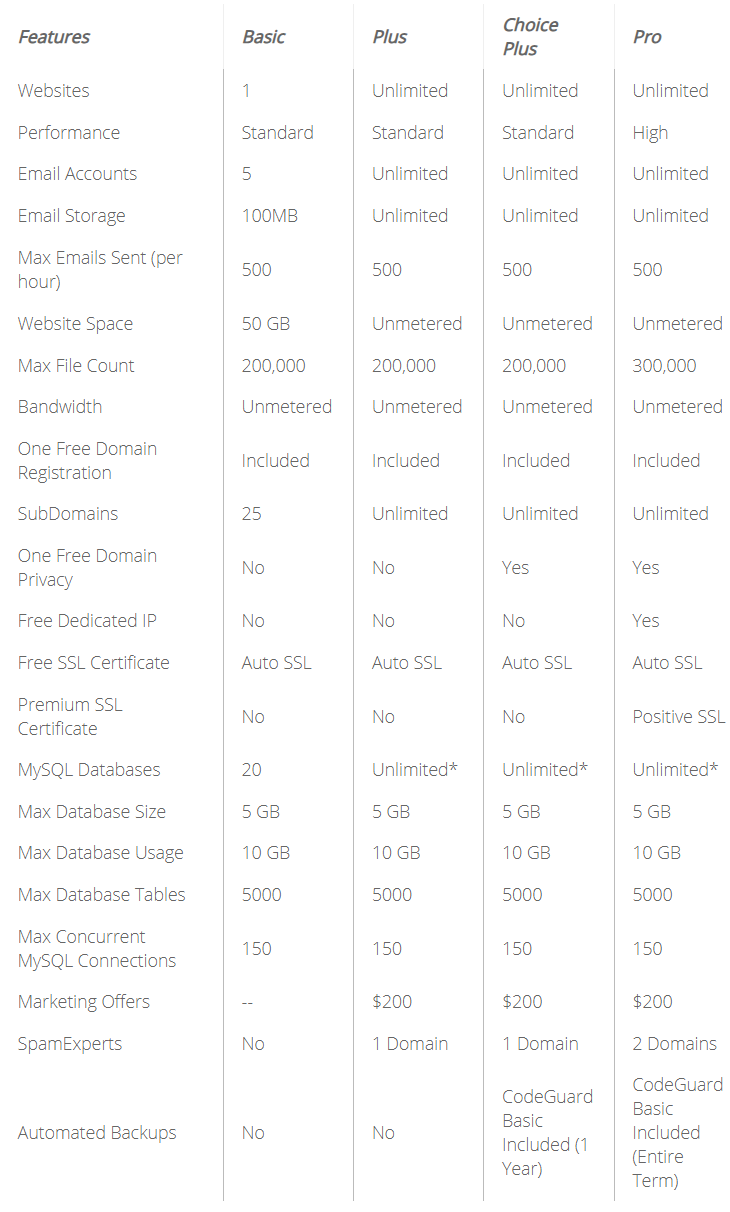 You can learn more about the pricing of other plans such as Dedicated Hosting, VPS Hosting, and WooCommerce Hosting, and WordPress hosting by clicking here.
Setting up a wordpress blog on bluehost
Setting up a WordPress blog on Bluehost is so easy that you can do it in less than 20 minutes. Here I have explained it in easy steps that how you can set up your WordPress blog on Bluehost.
First you have to create your account on Bluehost. Here are the exact steps to create your Bluehost account –
Step 1 – Click this link to go to the official website of Bluehost.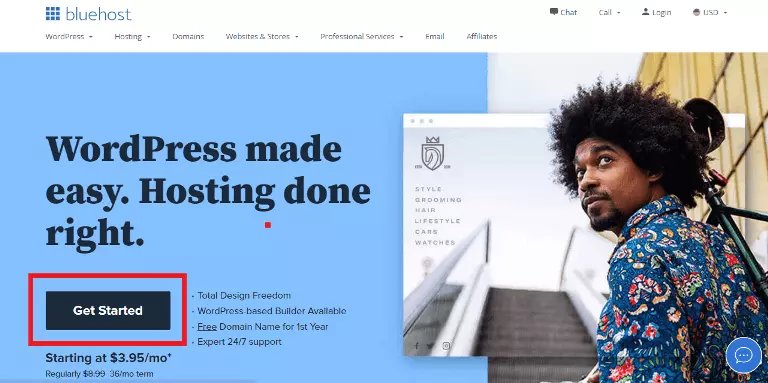 Here, click on the "Get Started" button and it will take you to the pricing page.
Step 2 – Now, choose any package that suits your needs. If you are a beginner or want to create a WordPress blog, I would recommend you to opt for the basic plan.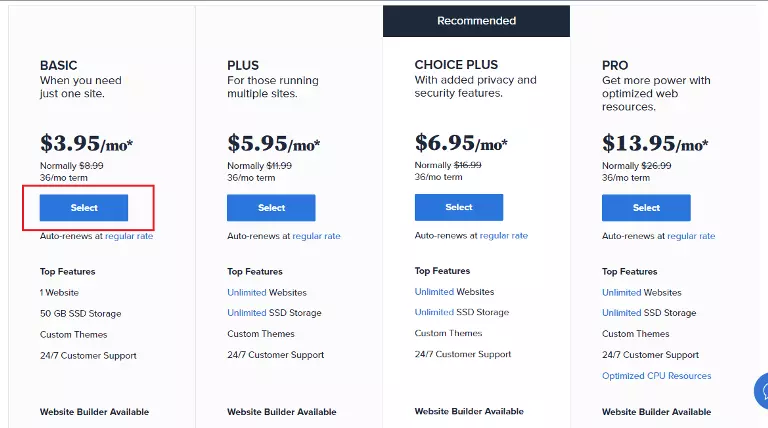 Now, click on the "Select" button and you will be redirected to the domain selection page.
Step 3 – Now you have to select your domain. Here, you will get 3 options for domain.
If you want to register a new domain then type your domain name in the box under "create a new domain". This domain is absolutely free for the first year.
If you already have a domain, type your domain under "Use a domain you own" in the second box.
This option is for when you haven't decided on your domain and want to create it later. To do this, click on the link "I will create my own domain later".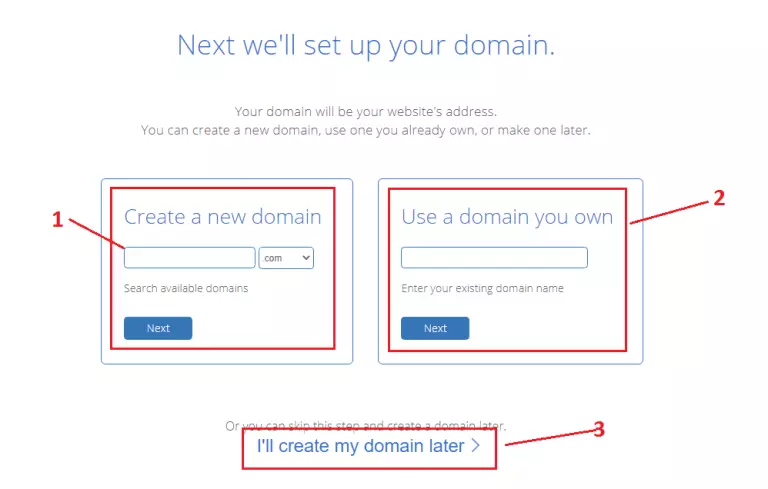 Let's say you are registering a new domain. Now type your domain name in the first box and click on Next button. After this, you will be redirected to the account creation page.
Step 4 – Now, you have to create your account. You can also use google to sign in.
Here, you will be asked about some personal details, details of hosting plan you want to subscribe to, etc.

After filling the details, click on the submit button and complete the payment.
Step 5 – After completing the payment process you will be sent to the welcome page.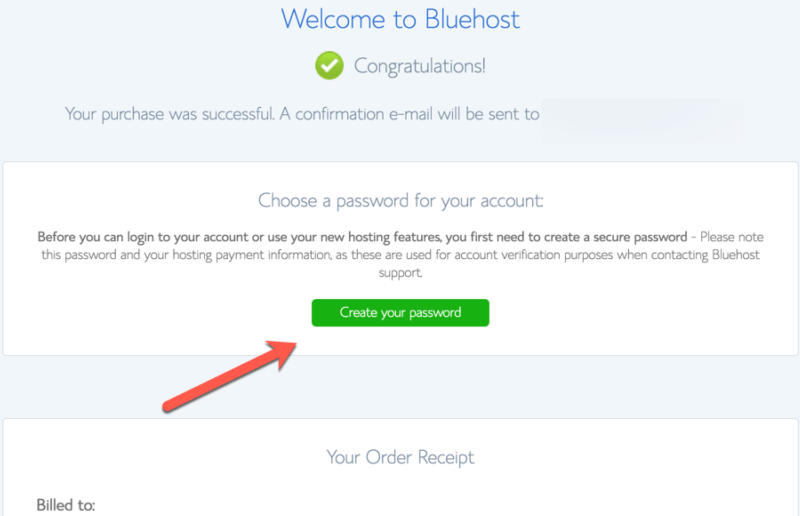 Here, you have to create your password. After creating your password, you will be able to login to your Bluehost dashboard.
After creating your account login to your Bluehost account. Now go to my websites and click on "Add site".
Now your amazing WordPress website is just a few clicks away.
To enable SSL and CDN in Bluehost, click on the "My Sites" link in the left menu. Now click on the "manage site" on your website.
1 – Here, lick on the "security" tab and turn on the SSL Certificate.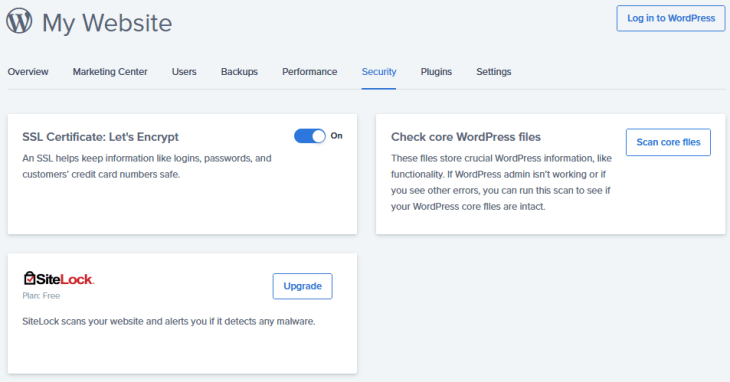 2 – To enable CDN, click on the performance tab. Here you can install the high speed CDN.
There are many other benefits of Bluehost but here I have told about some important benefits.
1. Free domain, SSL & high speed CDN
On Bluehost, you will get a free domain for the first year. It also offers free SSL Certificate nad a high speed CDN for your webitses.
With Basic plan you get 25 subdomains and for other plans ( Plus, Choice Plus and Pro ) you get unlimited subdomains.
3. Free custom email accounts
A custom email account is is your branded identity. Bluehost provides 5 custom email accounts with it's Basic plan and unlimited email accounts with other hosting plans.
With Bluehost's website migration plugin, you can easily migrate your website to Bluehost from any hosting service.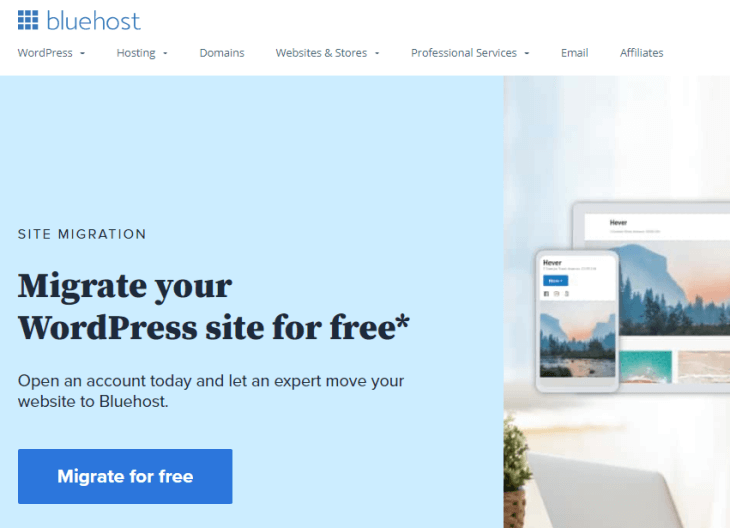 Bluehost offers 20 MySQL databases in it's Basic plan and unlimited in other hosting plans.
Bluehost offer unmetered bandwidth in it's Basic shared hosting plan and in Plus and Choice Plus plans it offers unlimited websites, unmetered website space and bandwidth, unlimited parked domains, subdomains, email accounts and email storage. 
Bluehost also offers an in-built marketplace where you can purchase add-ons and extra services. Here you can buy extra security, marketing tools, and many more things to grow your website.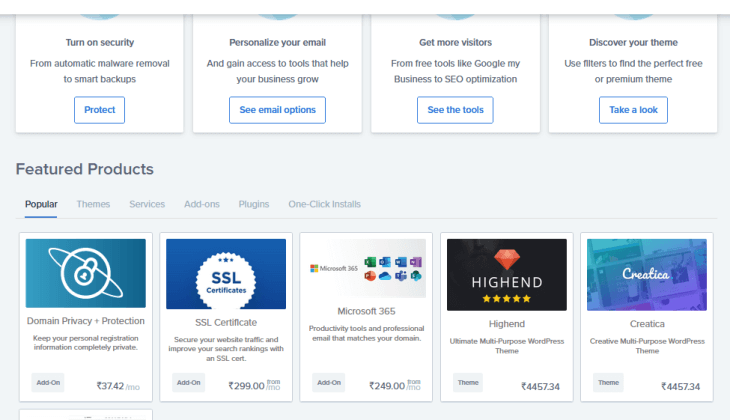 The cPanel of Bluehost is very user friendly and easy to use. You can find every option in just one click in front of you.
Along with many benefits, it also has some downsides. Here I have mentioned them – 
This is the major downside of Bluehost. Their first year prices are highly discounted but renewal rates are not so discounted. Where you pay $2.95/month in the first year, you have to pay $9.99/month per month in the second year.
But I think after one year you will definitely grow your blog/business so much that you can easily afford this price.
Bluehost does a lot of upselling. They also provide many additional services and addons during checkout and inside the account dashboard.
But, it is completely up to you whether you want to buy those items or not.
3.No Free Automated Backup
Most hosting companies provide free automatic backup of websites but Bluehost does not provide any such backup service for free. If you want this service, you will have to pay extra money for this.
But, there are many free plugins that will automatically back up your WordPress website so you do not have to spend money for it.
Bluehost Other Plans & Pricing
Bluehost offers many other hosting plans as per the requirement of different types and sizes of businesses. Here are the pricing of Bluehost other plans – 
This hosting plan is specially designed for WordPress websites. With this plan, you will get specialized features and tools that will help you grow your WordPress website. This hosting plan is best for WordPress blogs.
2. Managed WordPress Hosting
This hosting plan is best for large WordPress blogs. Once your blog grows, you can upgrade to this hosting to give a seamless experience to your readers.
This hosting plan is customized for woocommerce stores. With this plan, you will get all the resources and tools to grow your woocommerce store.
In this hosting you get your own server. That is, only your website will be hosted on that server.
This hosting is designed for large business websites that receive huge amounts of traffic and require more performance, flexibility, and security.
In VPS ( virtual private server ) hosting you get a shared server but private resources like RAM, Processor, and 1 IP Address, etc. 
This gives you more flexibility and control over your servers. Websites hosted on this type of hosting are faster, reliable, more secure, and better in performance.
You can choose any hosting plan as per your need and budget. If you are just starting out then you should go with shared hosting but if you have grown your blog well, then you should upgrade to managed WordPress hosting. Along with this, if you want to make a big website for a company, then you should choose VPS or dedicated hosting.
1. Is Bluehost the best hosting to start a blog?
I have run WordPress blogs on many hosting. As per my experience, Bluehost is the best web hosting to start a blog.
2. Does Bluehost offer a free domain name?
Yes. Bluehost offers a free domain name for the first year. After the first year, you will have to pay for the domain.
3.Do I get free WordPress with Bluehost?
Yes. You can set up WordPress completely free on Bluehost. Also, setting up WordPress on Bluehost is very easy.
4. Does Bluehost offer a free SSL certificate?
Yes. Bluehost offers a 100% FREE SSL certificate.
5. Does Bluehost charge monthly?
No, Bluehost has three payment terms, 12 monthly, 24 monthly, and 36 monthly.
6. How much does Bluehost cost after the first year?
You will be charged the regular rate after the first year. For a shared hosting plan, you will be charged $9.99year for Basic, $13.99/year for Plus, $18.99/year for Choice Plus, and $28.99/year for Pro.
7. Can you cancel Bluehost at any time?
Yes, but you will get a refund only if you cancel within 30 days of hosting purchase.
8. Does Bluehost offer a money-back guarantee?
Yes. Bluehost offers a 30 days money-back guarantee. You will get a 100% refund if you cancel within 30 days of purchase.
Overall, I think Bluehost is a great choice as a hosting service for bloggers. You can get started today by clicking on the button below.
In this Bluehost review, I have covered all the main features, benefits of using the hosting service, and the security features that are available with Bluehost.
With the above information, you will be able to find a web host that meets your needs and allows you to grow your blog. I'm always glad to hear that my readers have enjoyed the content I create, and I'm especially glad to hear that I may have been helpful to you in some way.
If you have any other questions, please feel free to write in the comments.